HI,
Even if the end of AstroTab was not of my doing, out of honesty and respect for all users who paid for the old application, I want to offer free use of this new version of AstroTab.
As the transfer cannot be automatic, it requires manual intervention so that AstroTab+ users can continue to use it normally after the 30-day trial period ends. no inapp Purchase will be requested.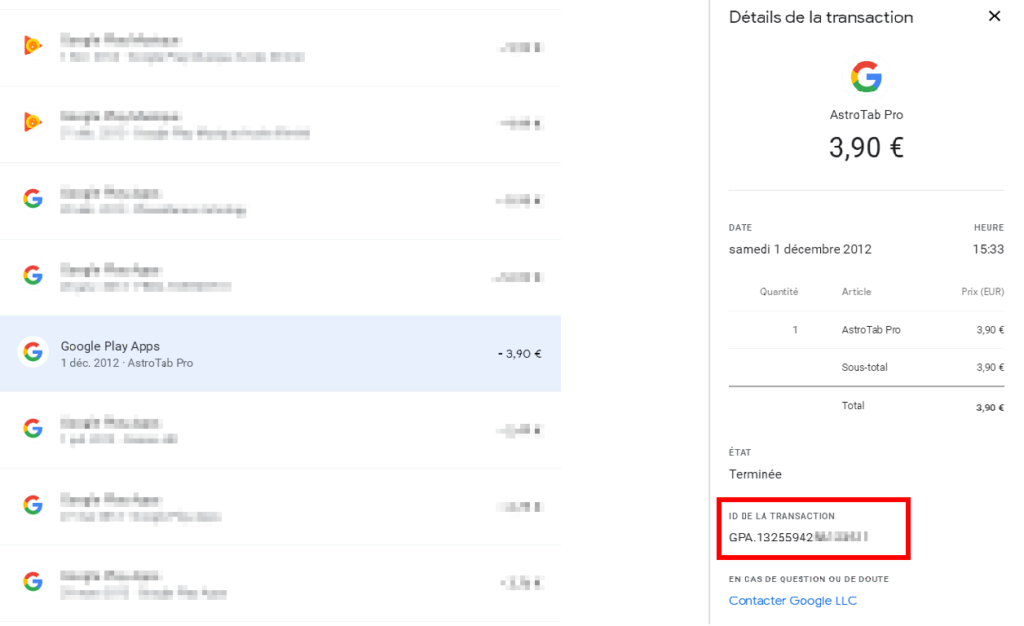 To do this, after installing and launching AstroTab+ (your agreement to connect to your google account will be requested)
Go to https://pay.google.com, with the google account you used for purchase.
Search for payment for AstroTab, it could be far down if really old and no search is proposed.
Select the Google Play Apps item for AstroTab Pro (or AstroTab if you purchased the Full version)
Then send the transaction id (something like GPA.xxxxxxxxxx) to zodiacomputing@gmail.com
If I find your purchase (mine, in the example (sorry for french btw), was correct and it's from 2012 so that shouldn't be a problem), I'll make Astrotab+ completely free.
With regards
nb: Please note that a change of Google account is not a problem, just make sure to log in to AstroTab+ with the account you want to be free. Of course, only one account can be free per transaction ID… I'll trace that 😉